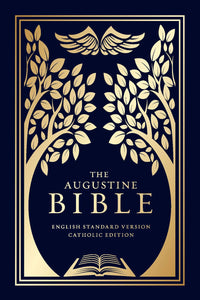 The Augustine Bible
 features a beautiful foil-stamped slipcase and a durable matte paperback cover to ensure that you can use and treasure this Bible for years to come. Printed in Italy, 
The Augustine Bible
 features the English Standard Version® Catholic Edition translation, which Scripture scholars consider to be the best available English translation of the Bible.
The turning point in St. Augustine's life came when the emptiness within drove him to cry out to God in anguish. As if in answer, he heard children singing ''
tolle lege
,'' ''take and read.'' We are grateful for the privilege to publish 
The Augustine Bible
, and we hope it encourages you to ''take and read'' with faith, as St. Augustine did, and so to truly hear the voice of God speaking to you in love.
6'' x 9''
Paperback with foil stamping under anti-scuff matte lamination
Smyth sewn
Encased in a rigid Wibalin® slipcase with foil stamping
Features the English Standard Version® Catholic Edition (ESV-CE) translation
1,232 pages, plus 8-page, full-color map insert
Printed on 24# Thinopaque
Printed in Italy