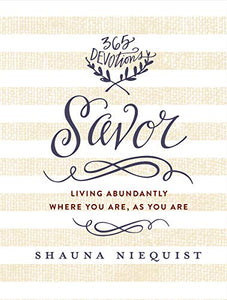 Read, learn, pray, cook, and share with New York Times bestselling author Shauna Niequist. Savor is a 365-day devotional that invites readers to expand their vision of spiritual living by incorporating prayer and recipes for gathering with family and friends over dinners, breakfasts, and late-night snacks.
Shauna Niequist becomes a friend across the pages, as she shares her heart with yours, keeps you company, and invites you into the abundant life God offers. Savor teaches us:
To savor each day, whatever it holds: work and play, coffee and kids, meals and prayers, the good stuff, and the hard stuff
Life is all about relationships, and your daily relationship with God is worth savoring in every moment
Recipes from Shauna's kitchen to enjoy around a table with people you love
Savor has a beautiful linen cover. Inside you'll find:
21 delicious recipes and a helpful recipe table of contents
365 devotions--each devotional includes a short Scripture, an insightful story from Shauna, and a thoughtful prompt to help you grow
A resourceful ribbon marker
This devotional is perfect for gifting to anyone who loves trying out new recipes or enjoys hosting gatherings for loved ones.