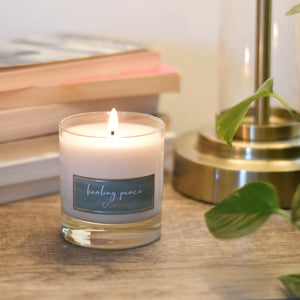 These restorative scents of lemon and barbershop are inspired by St. Martin de Porres.
Nuanced with notes of wood, bay leaves, and citrus zest.

Behind the Inspiration
The biracial child of unmarried parents, Martin was apprenticed at an early age to a barber-surgeon to support his single mother. After becoming a Dominican brother, he was able to use these skills in the infirmary. The humble Martin was known for working miracles, including planting a lemon tree that always bore fruit.

St. Martin's feast day is November 3.
Corda Ingredients:
Each candle is handcrafted with CORDA's proprietary coconut wax blend, custom phthalate-free fragrances blended in-house, and a cotton and paper wick primed with all-natural wax. Learn more about the ingredients here.
Candle Care:
You'll get the cleanest, longest, and safest burn from your candle with a few simple steps:
Always trim the wick before lighting to 1/8"–1/4"
Burn until the melted wax reaches edge to edge, or very nearly, to reduce tunneling
Burn only up to 4 hours at a time
Always keep a burning candle in sight, away from flammable materials, out of drafts, out of reach of pets and children, and on a heat-safe surface
Keep out of direct sunlight